As is well-known, Anime plays an important role in Japanese culture. Lots of foreigners have an interest in this subculture and have come all the way to our country.
Not only in amusement parks and museums, but even in just the street you can encounter with anime objects.
When I visited Kami-Igusa to meet with my friend, GUNDAM suddenly appeared in front of me. I was so surprised. Even in such a small town, I can find something fun. In addition theme song of GUNDAM is  adopted here as a melody that is used to indicate a train's departure.  I couldn't see, but my friend said that on the shutter of kiosk on the station platform, illustrations about GUNDAM are depicted.
If you have a chance or would like to see this, visit this town. There are something except GUNDAM here.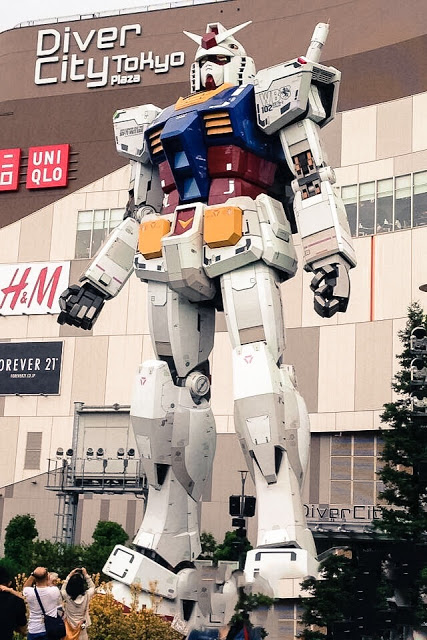 Are you a GENDARME fan? At DiverCity Tokyo Plaza, in Odaiba-Tokyo, you could also find  the world's only full-size Gundam statue until May 5, 2017. Unfortunately you already have lost the opportunity to see it, because of the innovation. But don't worry. In Autumn, 2017, new life‐size statue of Unicorn Gundam will make its appearance here.
Important Notice
GUNDAM FRONT TOKYO in DiverCity Tokyo Plaza will finish it's business on April 5, 2017, for following project. This is your very last chance to visit, mind you.