In Nicaragua there are 19 volcanoes. Just looking at them is fun. Because each volcano has unique character and different expression. The landscape of volcanoes is picturesque and tourists definitely view them from the finder. Nicaraguan people can't ignore those volcanoes. Because they are always there. At times people dread its anger, at times they are grateful for the great benefit. Life in Nicaragua is closely tied with them. Even we, tourists, can link with such great mountains.
 Volcano subside is the sign that we get a chance to play with them.
Volcano Cerro Negro
Cerro Negro is located near the city of Leon. To get there, I had to take one hour Car ride on bumpy roads. But the scenery outside the car is beautiful and peaceful. Almost one hour have passed since we started, then the black clod appeared on the left side. This is what I go. Cerro Negro was born in 1850, Central America's youngest volcano. It is one of Nicaragua's most active volcanoes.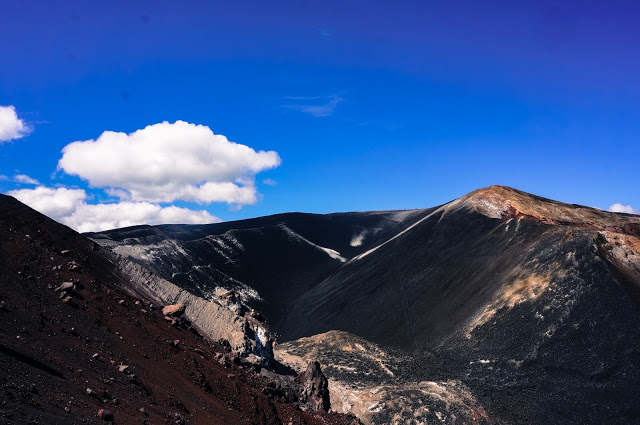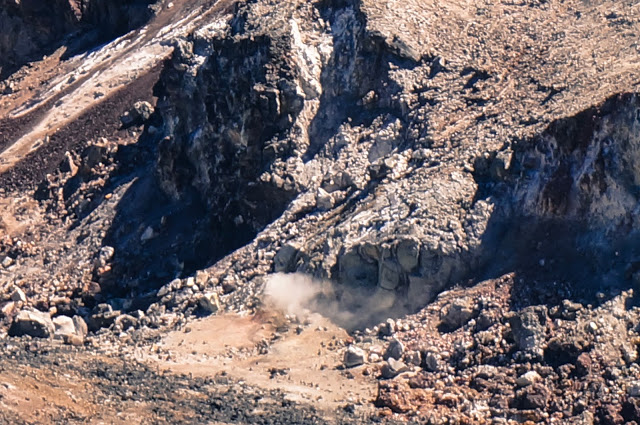 What is Volcano Boarding?
Cerro Negro is very famous for volcano boarding. Have you ever Heard of it before? Like snowboarding, It is a board sport. it takes place on volcano slopes rather than snow-covered mountains, just like the name. Now It functions as a loss leader in Nicaraguan tourism industry. In fact since I got information about this great attraction, it haunted me. As a result of that, it's not too much to say that I came here for this unusual experience.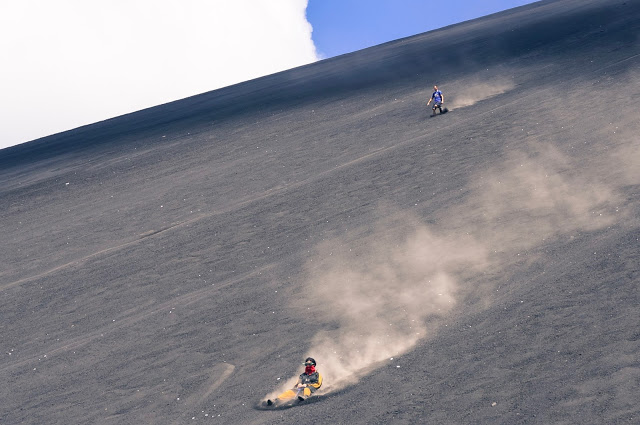 Hike Up Cerro Negro
Doing warm-up exercises in preparation for any sport is needed. The same can be said of volcano boarding. Before this exciting activity I had to hike up Cerro Negro. The hike itself is not hard, but it is little bit difficult because volcanic stone carry off my foot.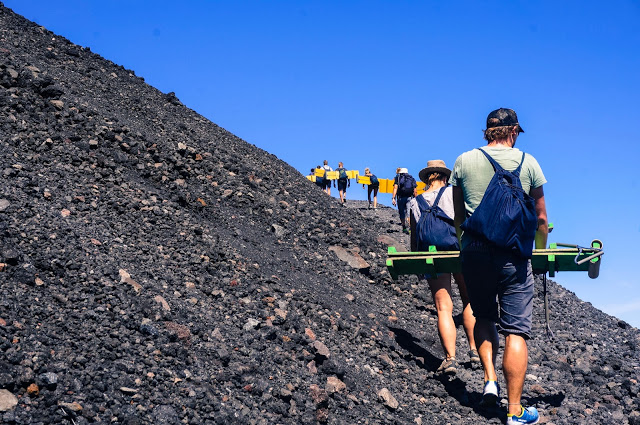 It's time for volcano boarding
After one hour hiking, I arrived the top of the volcano. It is 726 meters high. From here, my adventure started.Controlling the speed was not difficult. Once I leaned back as far as I could, in order to reduce wind resistance, speed was up. On the other hand, if I'd like to go slowly, I only kept my feet down. Sit at the board, breathe deep, and plow the ground with powerful strokes. YEEEEEAH ! I've never felt so much wind before! Pleasant few minutes had flayed fast.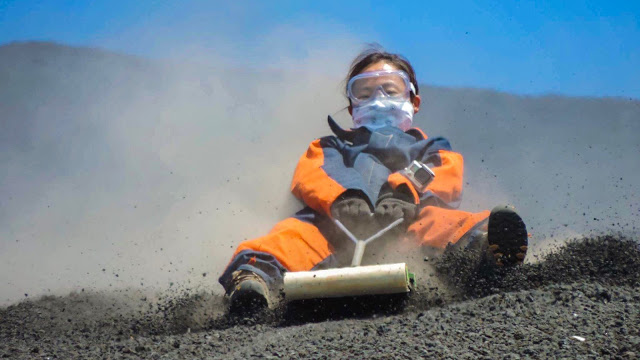 Be careful!
In order to avoid serious injury, there are some points you should keep in mind. 1) Control your speed. While high-speed drive is quite exciting, there is a possibility for crash. Volcano stone is so sharp that it is hazardous to your health. 2) protective clothing is provided. But it is not enough. you must bring your full covered shoes. Maybe trekking shoes are best, because they have thick sole. To control your speed, you must  dig your heels into the ash rock. 3) Bring your water. Before you dry up, you should drink a lot of water. If you suffer from heatstroke, you can't genuinely enjoy it.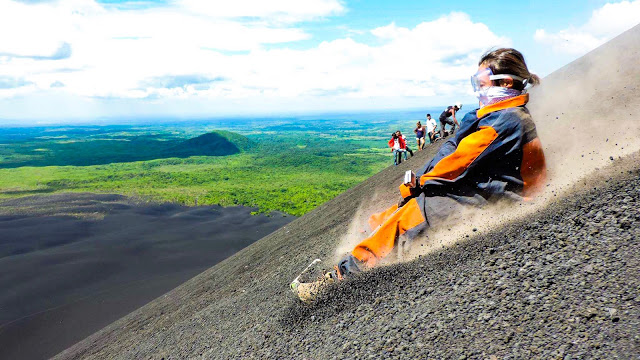 Are you brave?
I recommend you  to go volcano boarding. It gave me the precious experience that I can never forget. Do you have enough courage to do this amazing adventure? 
The travel agency demonstrate how to ride volcano board and to control your descent. However eventually you are the only one who can protect yourself from danger.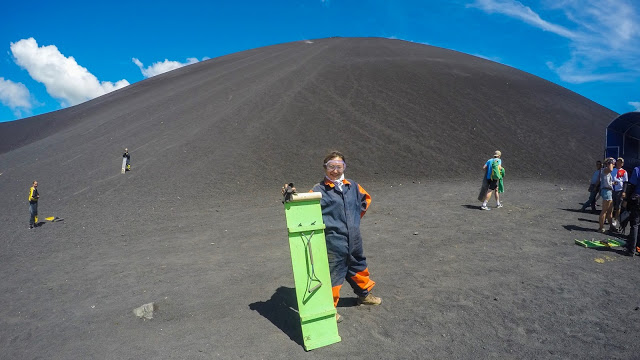 Travel Information
I booked this tour at the hostel ". The travel agent picked me up and drop me off at the hostel. It was very convenient. In addition, the tour is not big (only 3 guests). So they could pay attention. I was very satisfied with them.
Travel Agency
I booked Volcano Boarding Tour at Maribios Tours, via Hostal Lazybones.
ADDR  Parque de los Poetas 3 cuadras al Norte y media cuadra al Este. León – Nicaragua 

TEL   (00 505) 2319-9818

 OPEN  Hour: 8:00 am a 6:00 pm
I've stayed at Hostal Lazybones.
ADDR  Del Parque de los Poetas, 2½ cuadras al Norte Frente del Restaurante Mediterraneo León- Nicaragua 

TEL   (00505) 5812-8847 (claro)  /  (00505) 7810-8537 (movistar)
BOOKING
Check following site to book Hostal Lazybones for your upcoming trip: their own website, Agoda, Airbnb or Booking.com

!