Since I was small, I am yearning for Afro-hair. Considering my current living environment as a office worker, I hardly make my hair style Afro-hair at an early date. It makes me disappointed.
In October 2014, I had a chance to go to Uzbekistan. That trip gave me an unexpected and pleasant experience. When I visited Khiva, an ancient city established in the beginning of the Christian Era, my heart was beating fast by the unbelievable sight. There was a man whose hair style is curly large rounded shape.
I couldn't recognize what was happening to him at first. So I drew near and observed him. He was likely to be a hatter and wear a big black hat. I asked him 'may I try this on? ' soon when I understood the situation. He gave a big smile, and put the black big hat on my head. This was the sign for the approval.
He prepared various hats, put the one after another and took photographs of me, while telling a story of the hat. According to his explanation, this name is ' cho'girma ' ( ' tel'pek ' in Russian). And this unique headdress was special for the men of this region. Its origin goes back to the Khanate of Khiva (1511-1920), and in those days wearing this large sheepskin hats was required. Apprehending this hat as a part of the formal dress, I wonder peddlers and travelers were so astonished the first time that they saw these Afros.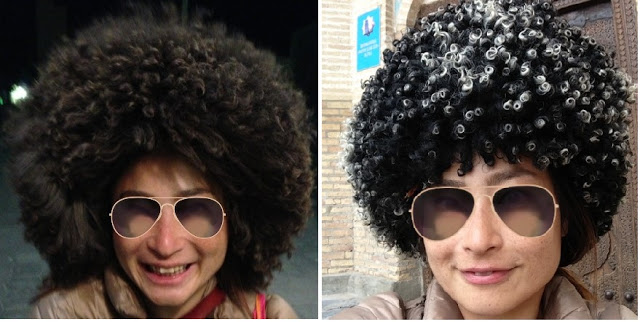 This headgear is not only fashionable but very practical. It is big and shaggy enough to prevent from overheat and the full glare of the sun during the summer season, and to brave the severe coldness in winter. This is very perfect hat, don't you think so??